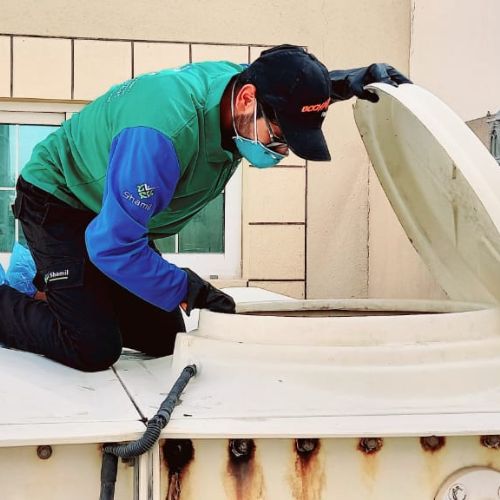 Welcome to Master Falcon: Your Trusted Water Tanker Cleaning Services in Dubai
When it comes to maintaining clean and hygienic water storage, there's no compromising on quality. At Master Falcon, we take pride in offering top-notch water tanker cleaning services in Dubai. As a trusted name in the industry, we understand the importance of clean water and are committed to ensuring that your water tankers remain free from contaminants and harmful substances.
Our Expertise: Master Falcon is a leading provider of water tanker cleaning services in Dubai, serving residential, commercial, and industrial clients with the highest level of professionalism and efficiency. Our skilled team of technicians is well-equipped to handle water tankers of all sizes, and we use state-of-the-art cleaning techniques and equipment to deliver exceptional results.
Why Choose Master Falcon:
Expert Team: Our team of cleaning experts is highly trained and experienced, possessing the knowledge and skills required to handle water tanker cleaning with precision.

Advanced Technology: We utilize cutting-edge cleaning technology and equipment, ensuring thorough cleaning and sanitization of your water tankers.

Safety Standards: Safety is our top priority. We strictly adhere to industry standards and protocols to guarantee a safe and secure cleaning process.

Quality Assurance: At Master Falcon, we never compromise on the quality of our services. You can trust us to deliver results that exceed your expectations.

Timely Service: We understand the importance of prompt service. Our team works efficiently to ensure that your water tankers are cleaned and ready for use within the agreed timeframe.

Competitive Pricing: We offer cost-effective water tanker cleaning solutions without compromising on the quality of service.
Our Cleaning Process: At Master Falcon, we follow a systematic and thorough cleaning process to ensure the highest level of cleanliness and hygiene for your water tankers.
Emptying the Tanker: We begin by emptying the water tanker completely, disposing of any remaining water safely.

Dry Cleaning: Our team performs a dry cleaning process to remove dirt, debris, and sediment from the tank's interior surfaces.

High-Pressure Washing: Using high-pressure water jets, we clean the tank thoroughly, eliminating any stubborn residues and impurities.

Disinfection: After cleaning, we use effective disinfection agents to kill bacteria and germs, ensuring the water remains safe for consumption.

Rinsing and Drying: The tank is then rinsed multiple times to remove any traces of cleaning agents. We ensure the tank is adequately dried to prevent mold or bacterial growth.

Final Inspection: Before handing over the cleaned water tanker to you, we conduct a final inspection to verify that it meets our stringent quality standards.
Conclusion: At Master Falcon, we are committed to providing the best water tanker cleaning services in Dubai. With our experienced team, advanced technology, and dedication to quality, you can trust us to keep your water tankers clean, safe, and free from contaminants. Experience the difference of Master Falcon's expert cleaning services and ensure a constant supply of clean and pure water for your residential or commercial needs. Contact us today to schedule a cleaning service tailored to your requirements.